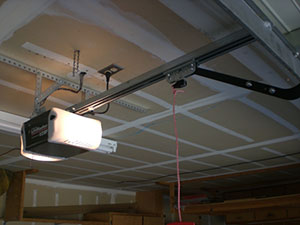 The garage door does not want to open or close properly or is moving too slow? It might be time to replace your existing one with a new one from Garage Door Opener in Woodland.
Six different brands of garage door openers that are commonly used:
* Genie
* Liftmaster
* Chamberlain
* Craftsman
* Sears
* Marantee
These are well known names that stand out for their quality products. You must have a quality garage door opener to open all sizes of garage doors, and some of these doors are very heavy depending on what they are made of. You will need to decide which type of drive you need to use for your garage door and some of you might be wondering what a drive has to do with a garage door opener. The drive is what moves your door; there are three types that you can have installed at your home:
* Screw Drive- easy to install, cheap to purchase and noisy
* Chain Drive is also cheap to purchase, very durable but also very loud
* Belt Drive is the quietest, but also very expensive
Our technicians will come out to your home and give you an estimate and recommend which garage door opener would be best for your door, but the final decision is up to the customer. So, if you prefer something cheap, but durable you would probably choose the chain drive. If you want a quiet door that will not sound like a freight train coming through your garage, then you will want to choose a belt drive, which can be more expensive but the quietness is worth every penny.
All of these products come with a warranty
If you prefer to do the work yourself, a technician can help you with the products you will need, but there is a lot of work involved in installing a garage door opener, so why not let the professionals at a Garage Door Opener service in Woodland handle the work for you. There is a lot of wiring involved in installing a door opener; a certified technician is qualified to handle the installation of your garage door opener.